Karagöz Everywhere Project is a proud initiative of Turkish American Arts Society of New York (TAASNY) that started in 2016 with the vision of expanding the scope and horizon of traditional Turkish Shadow Theatre nationally and internationally; hence "Karagöz Everywhere". Our mission is simple: to introduce and engage as many people as we can with Karagöz, and spread the magical experience of the "dream curtain" to audiences from all around the world. With this mission in mind, we started forming a Karagöz Team that consists of various artists, scholars, puppeteers, and academicians from around the world. Karagöz Everywhere strives to perform the highest quality of entertainment to promote understanding, tolerance, and communication across the diverse mosaic of our society through arts.
Historical and Cultural Relevance
Karagöz Shadow Puppet Theatre is a lasting tradition and an invaluable cultural legacy for the world. It is in fact recognized by UNESCO as the intangible cultural heritage of humanity in 2009. Karagöz Shadow Theatre is considered as one of the most important branches of traditional Turkish Theatre.
Developed during the early years of the Ottoman Empire and making its way along the old Silk Road routes, east and west, Karagöz theater and Karagöz puppeteers became familiar and beloved sites from Istanbul to Tashkent, Kashgar and beyond.As ambassadors from an age long past, Karagöz, Hacivat and their friends have the ability to powerfully cross cultural borders and touch the hearts of people who might never have had the chance to meet them. A Karagöz Puppet Show is fresh and alive- not in any way a dusty, faded memory from a museum storeroom- with seven hundred years of grand tradition behind it ready to meet the needs and expectations of a modern audience. Focusing on the two main puppets, Karagöz and Hacivat, a traditional Karagöz shadow show was first and foremost fun and entertaining and almost always carried a moral or a hint for right living. 
The audience can expect to laugh, learn, and appreciate this cultural treasure. Today, Karagöz shadow puppet theater is no less valuable or necessary as a tool of cultural understanding than it once was; perhaps even more so. Laughter is an indispensable universal medicine, and Karagöz shadow theater is both a tangible and intangible treasure that has lasted for more than seven centuries. It now has the potential to be a gift to the world. A Karagöz Puppet Show gives not only children, but people of all ages the opportunity to experience and understand the cultural diversity of the puppets, the importance of compassion, and living in peace with your neighbors. We offer these puppets as a bridge to cross cultural understanding and as a powerful means to help diminish and destroy hate, bigotry, and fear in the hopes of contributing to a more peaceful and compassionate world for all humanity.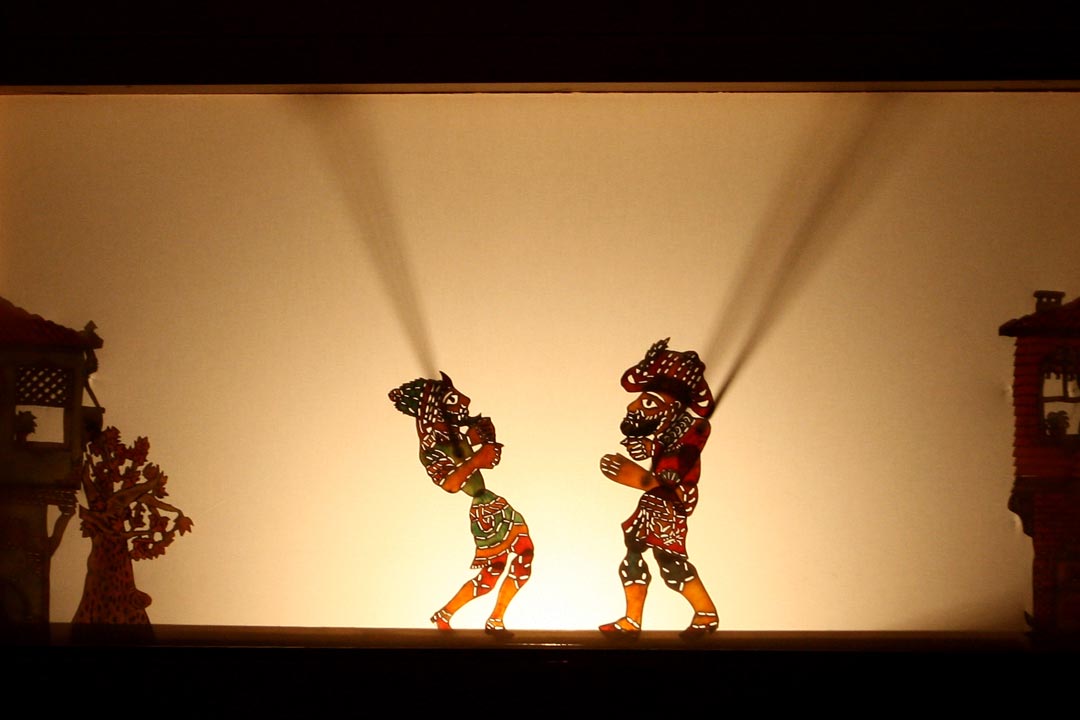 What is Shadow Theatre?
Shadow play which is also known as shadow puppetry is an ancient form of storytelling and entertainment which uses flat articulated cut-out figures (shadow puppets) which are held between a source of light and a translucent screen or scrim. The cut-out shapes of the puppets sometimes include translucent color or other types of detailing. Various effects can be achieved by moving both the puppets and the light source.

Who is Karagöz?
Legend has it that Karagöz and Hacivat were two masons working on the construction of a mosque in Bursa, then the capital of the Ottoman State. They were an odd couple whose unending conversations were so entertaining that the other workers often stopped work to listen to them. When the Sultan learned why the mosque could not be completed in due time, he ordered that they be hanged, and order which he regretted deeply. Seeing the Sultan in distress, one of his advisors, Küşteri, designed an apparatus which he thought might console him. He stretched the translucent screen (perde) across two poles and then placed a light source behind it. He cut out two figures which resembled Karagöz and Hacivat, and manipulated them behind the screen. We do not know if this really worked for the Sultan, but the story reveals another example of how art functions as a substitute for loss, an experience that is fundamental to the human psyche.
Source: An article named "Tradition Offers Possibilities for New Media Technologies: An Animation System for Shadow Theater" by Gudukbay, Erol, and Erdogan
Karagöz Everywhere Perfoming Team
Ibrahim Yazici: With more than 30 years of experience in theatre acting and directing, Mr. Yazici is the master puppeteer (hayali) behind the dream curtain animating the entire Karagöz crew, singing, reciting poetry, and improvising. Mr. Yazici also has been writing/translating/adapting Karagöz scripts for various audiences. He is also the co-founder and president of Turkish American Arts Society of New York (TAASNY).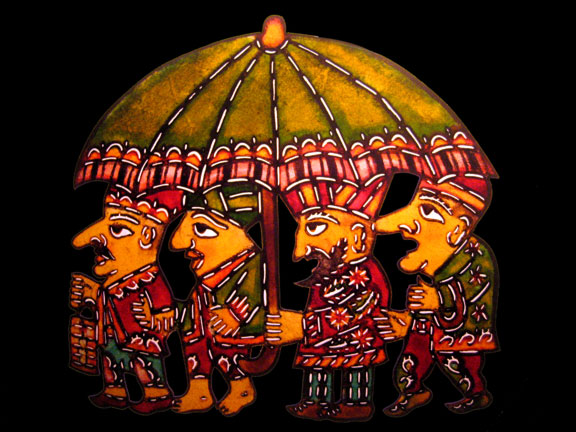 Aysen Darcan: Dr. Darcan has joined TAASNY 5 years ago. She has done acting, improvisation, and worked as the producer of various shows. As the executive producer of Karagöz Everywhere Team, she prepares and delivers presentations. She Co-facilitates workshops with Mr. Yazici. A Cross-cultural Psychologist by career, she writes and adapts scripts by incorporating archetypal character analysis and cultural nuances for Karagöz shows.
Cliff Long: As the founder of Crescent Moon Karagöz Shadow Puppet Theater, Mr. Long is a very experienced and skilled master puppeteer (hayali) who brings his expertise from his historian, anthropologist, actor, and musician background. He brings such spirit, respect, humor, and in depth understanding of Karagöz to his performances, that makes us believe that he is in fact a distant cousin of KaragözJ He is also a great story teller and a script writer for Karagöz, remaining true to the traditional form and style.
Kutay Manfurat: As an actor of TAASNY, Mr. Manfurat has joined the Karagöz Everywhere Team as the apprentice (cirak). He offers invaluable help to the crew at every step of the show through the rehearsals, preparation, set up, sound design, technical help, assisting Hayali, and the production
Karagöz Crew
İbrahim Yazıcı General Director - Hayali
Ayşen Darcan Ph.D. Executive Producer
Cliff Long Playwright - Hayali
Kutay Manfurat Apprentice - Sound Designer
Dogan Kumova Technical Director - Web Editor
Hakan Dündar Stage Designer-Workshop Presenter
Serdar Duran Graphic Designer-Illustrator
Pınar Zengingönül Ph.D. Choreographer- Music